The price of Ethereum has risen to its highest point in more than a month.
Ethereum climbed back to the $1400 level
The second-largest cryptocurrency, Ethereum, witnessed a significant bounce on Saturday, rising by more than 15%. The price of the cryptocurrency increased to $1,422, its highest possible level since June 13. Approximately $196.72 million in ETH short-term securities have been closed over the last 24 hours as a result of the significant price increase, according to statistics. In terms of market capitalization on futures exchanges on Saturday, ETH outperformed BTC, according to information examined by the 5minutecoins team. 
On July 16, ETH was able to increase its value relative to Bitcoin by as much as 12 percent, reaching its highest level since late May. Tim Beiko, a prominent member of the Ethereum Foundation, officially announced that the eagerly anticipated Ethereum update would occur in September. The integration will nonetheless be delayed because the timing is still provisional.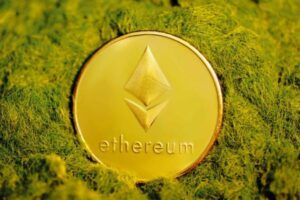 Not at the previous high yet 
In December 2020, the Ethereum blockchain's proof-of-stake implementation, known as The Beacon Chain, was released. Goerli would be the last testnet to go through the transformation after Ropsten and Sepolia. This penultimate stage before the eagerly anticipated merger is likely to take place in August. The most recent price rise was expected since Ethereum's move to proof-of-stake has long been seen as the primary bullish stimulus for the second-largest virtual currency this year. However, ETH has lost more than 72% of its value since reaching a new peak of $4,878, so the biggest cryptocurrency would need to make significant gains in order to regain its previous high.