Unocoin, India's first crypto exchange platform organized a community seminar " let's talk about bitcoin in Bangalore" on Saturday in Sheraton Grand Bangalore. The symposium's goal was to bring together like-minded crypto fans to talk about the industry.
During the first half of the event, Sunny Ray, the President and Co-Founder of Unocoin, gave an introduction to bitcoin, Ethereum, Stablecoins, and other types of crypto.
While comparing the benefits of digital currency to fiat, Ray noted, "bitcoin is limited in nature, unlike dollars. It is more robust, more portable, and not under the authority of a single person.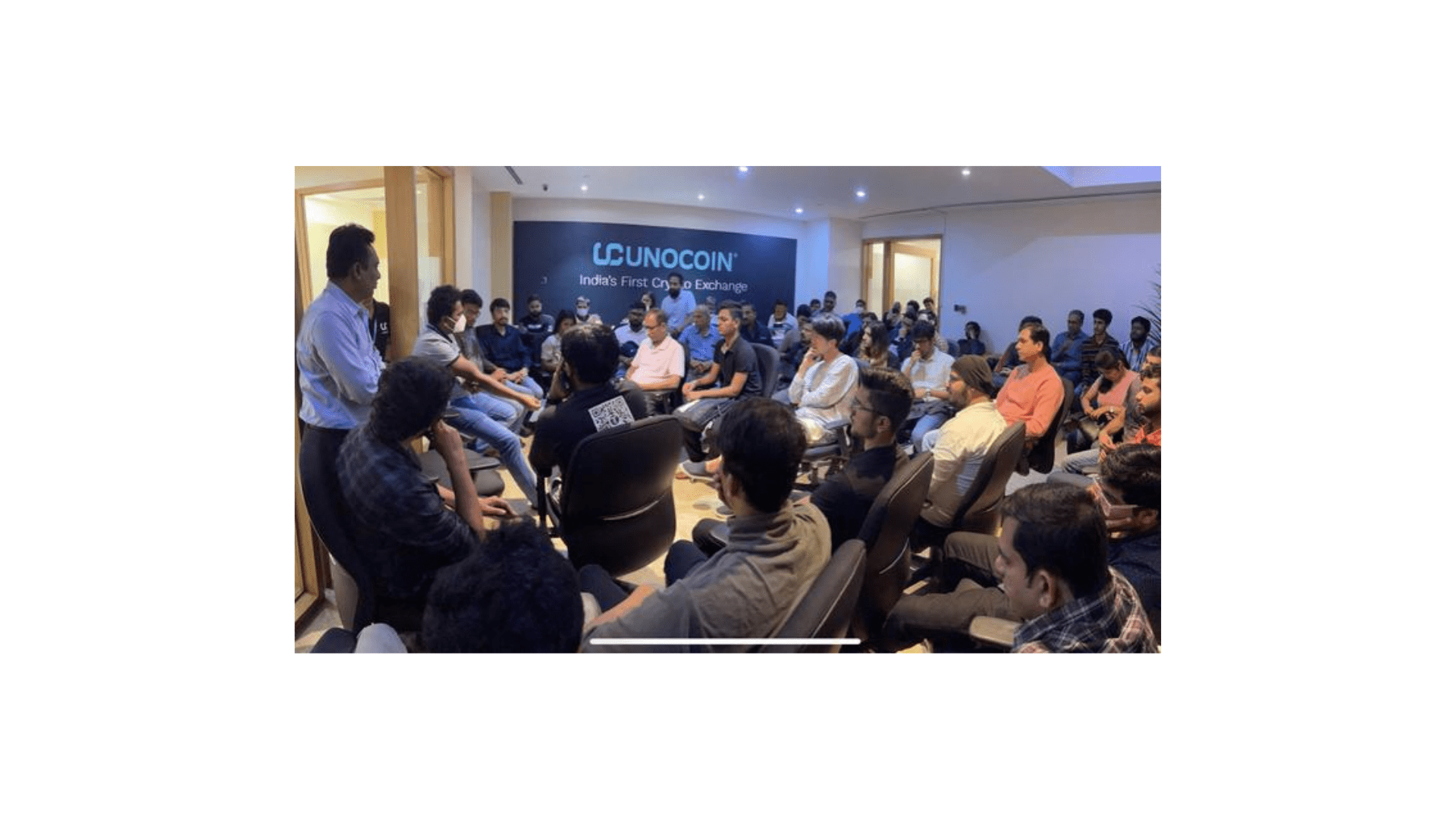 Something that was worth noticing during the event was the audience. The presence of people from all age groups in this audience debunked the myth that crypto aficionados are only Gen Z and Millennials. The CEO and Co-Founder Sathvik Vishwanath said, "we tried to clarify some of the most basic concerns that often create misunderstanding and bring annoyance to those who are trying to understand crypto."
Nimish, Sushaan, and Dinesh, students from VIT Vellore said that they didn't expect to see people from such a diverse age group. "it was refreshing to see GenX people being so vocally indulged during the conference, asking questions about bitcoin and covering a wide spectrum of topics that included economic and geopolitical aspects as well."
In a country like India where 75 percent of the people don't even have financial literacy, Unocoin's initiative to gather community enthusiasts was indeed a success. Furthering the discussion, Ray and Vishwanath both expressed their concerns over the "not well researched" crypto-regulatory landscape of India.
"Regulations are always good and it's the duty of the government to protect the people, we believe, that the rules and regulations the government has come up with have slightly outpaced our expectations," said Vishwanath.
"Additionally, the fact that these regulations were implemented during a bear market is saddening since it will substantially discourage individuals from investing in it. This will eventually lead to people not understanding the innovation and India as a country will lose out. The ministry should conduct more thorough research before introducing such rules, their duty is to protect people not to discourage them", Vishwanath added.
While FM Nirmala Sitharaman's financial tactics have always been in question, this might not come as a shock that the entire community is somehow feeling aggravated. Even for the people who are completely oblivious to the crypto world, it was hard to digest the new crypto regulation policies.
Charu Singh, one of the attendees who also happens to be a banker, describes the event as a new concept for an old-school banker like herself, "though it was intriguing, several things around the taxation policy seemed overtly restrictive, overall the entire event was good and it's a deep ocean to dive in, I'd definitely like to attend more events by Unocoin."
Overall the event was a great initiative, and even though the organizers didn't expect any media, their positively oriented approach was appreciated by the people